Peninsula Cellars
OPEN NOW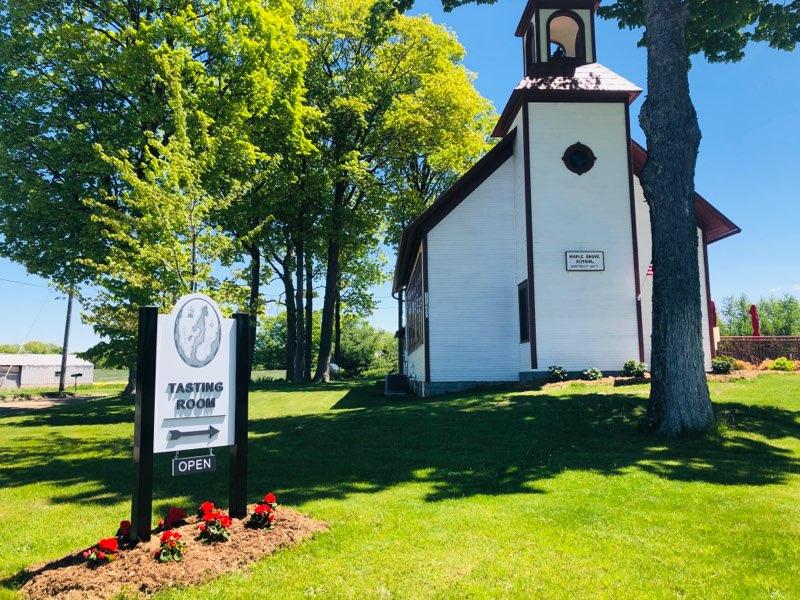 Amenities
✅ Wines by the Glass
✅ Light Snacks
✅ Patio
✅ Haunted
✅ Wheel Chair Accessible
Varietals
| | | |
| --- | --- | --- |
| ✅ Pinot Blanc | ✅ Pinot Grigio | ✅ Chardonnay |
| ✅ Riesling | ✅ Gewürztraminer | ✅ Cayuga |
| ✅ Pinot Noir | ✅ Merlot | ✅ Cabernet Franc |
| ✅ Dornfelder | ✅ Lemberger | ✅ Baco Noir |
| ✅ Marechel Foch | ✅ Cherry | ✅ Apple |
| ✅ Cherry Port | ✅ Hard Cider | ✅ Apple Port |
About Peninsula Cellars
Peninsula Cellars was founded by an industrious family that has farmed Old Mission Peninsula for over 100 years. The historic Maple Grove Schoolhouse serves as the tasting room, offering a nod to the winery's time-honored roots. The friendly, knowledgeable staff serves red and white varietals, fruit wines, and hard ciders in a warm, hospitable atmosphere.

Events Search and Views Navigation
November 2019
November 30, 2019 @ 10:00 am
-
5:00 pm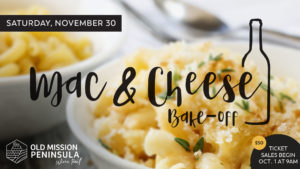 SOLD OUT for 2019! Our famous and most beloved wine trail event is back! America's favorite comfort food gets an upgrade with help from celebrated Northern Michigan chefs. Area restaurants partner with one Old Mission Peninsula Wine Trail winery to create a perfectly indulgent mac & cheese and wine pairing. Attendees are asked to vote for the best pairing, cheesiest recipe, and overall favorite. Winners receive bragging rights, their place in history, and new this year... the golden noodle!
Find out more »
January 2020
February 2020
May 2020
June 2020
+ Export Events
$5 for 5 samples
$10 Study Break Wine Flights
FOR APPOINTMENTS CALL: (231) 933-9787
When scheduling via email, please use all of the following contacts to make sure your request is processed promptly:
GROUP POLICIES AND EXPECTATIONS:
WE HAVE LIMITED SPACE, PLEASE BE CONSIDERATE OF THOSE LIMITATIONS. STAFFING IS ADJUSTED REGULARLY TO ACCOMMODATE GROUP APPOINTMENTS.
Groups are booked on the ½ hour only beginning at 10AM and ending one half hour prior to our posted
closing time.
Please call or email at least 24 hours in advance with groups of 10 or more . Our space is limited, 24
hours notice is required in order to accommodate groups 10 or larger. Confirmation codes will be given
for each reservation.
Groups of 25 or more require 48 hours advance notice. Tasting for groups of 25 or more are required
to pay in advance for all tasting fees in order to reserve their requested time slot. This is a
nonrefundable fee.
Please notify the tasting room immediately if you anticipate early or late arrival for a scheduled group.
Drivers are expected to escort their groups into and out of the tasting room. Please provide confirmation code upon arrival to the manager on duty.
Peninsula Cellars will conduct confirmation calls to verify and confirm the time, group size, driver name, and confirmation code within 48 hours of the groups scheduled arrival time.
If the Peninsula Cellars staff observes inappropriate behavior, unauthorized drinking or illegal alcohol consumption, groups will be asked to leave immediately and appointments will be surrendered.
Peninsula Cellars is an entirely smoke-free property. This includes drivers, guests, and staff.
With the exception of service animals, pets of any kind are not permitted in the tasting room or patio.
Please use the upper drive for offloading guests only. Please pull forward to the edge of the parking area for parking or in the lower dirt driveway for parking while guests are inside. Parking in the main parking lot is reserved for cars only.

*Subject to change without notice.
| | |
| --- | --- |
| Monday | 10:00 AM - 5:00 PM |
| Tuesday | 10:00 AM - 5:00 PM |
| Wednesday | 10:00 AM - 5:00 PM |
| Thursday | 10:00 AM - 5:00 PM |
| Friday | 10:00 AM - 5:00 PM |
| Saturday | 10:00 AM - 5:00 PM |
| Sunday | 10:00 AM - 5:00 PM |